Our Team of Cat Sitters
Meet our team of professional cat sitters! Every member of our cat sitting care team is:
— trained to navigate your house
— personally introduced to your cat.
— cat parents with years of experience
— trained in pet CPR
— insured
— has passed thorough background searches
You'll know how each visit is going in real time!
You will receive a mobile push-notification announcing your sitter's arrival each visit including GPS time-stamped arrival and departure times.
During every visit you'll receive a message from your sitter detailing what we did during the visit, how your cats are, and how they interacted with us to include photos and videos.
Leah, co-owner and cat sitter
Martin and Leah are lifelong cat family members. Right now they live with 6 cats including Joey, our office manager at Companion Keepers. Martin and Leah are highly active in day-to-day operations. They believe that the best part of the job is hanging out with your cats! Our team members depend on their wealth of information and experience owning a successful cat sitting business for 25+ years. You can count on them to ensure your cats are well attended during your travels.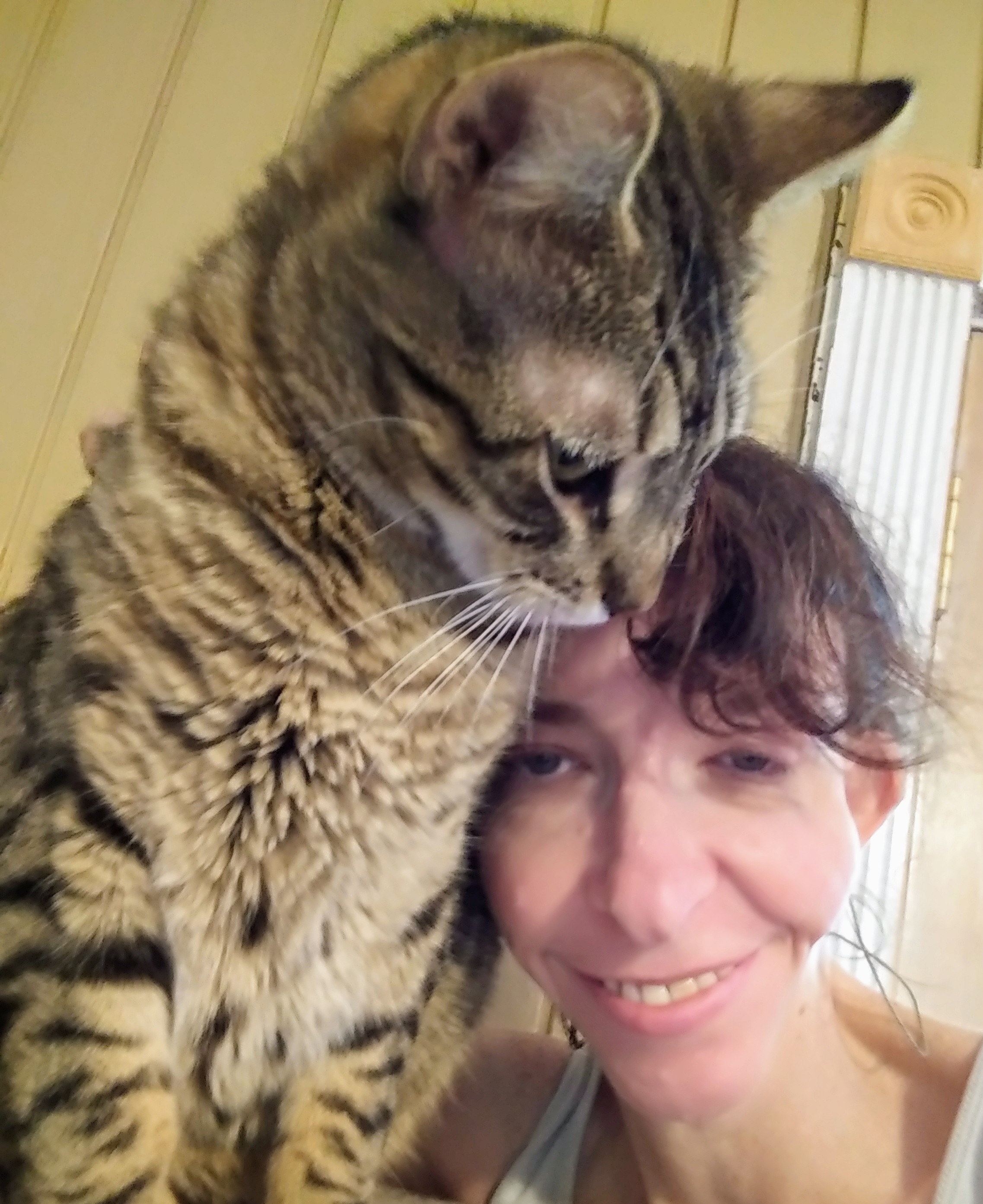 Emily, lead cat sitter
"My favorite part of this job tends to be the diversity of cats, ranging from affectionate to cranky. I enjoy figuring out what makes each cat tick and what they enjoy the most. I think I'm pretty successful at reaching cats and making friends with them. But no matter what, I always try to exceed their expectations and that of their owners."
Emily started her venture into cat ownership as a child. A big beautiful black cat wandered into her yard and Emily lovingly tried sharing her burrito with her new special friend. While Fang (as he was later named), didn't think much of the burrito he did appreciate Emily's love and companionship. Emily is owned by three full time indoor cats including household tyrant Angus who rules the domain. Emily has experience caring for her own senior kitties and volunteering with cats in various animal shelters. Emily also works in the library science field. Emily states, "Books and cats have always been my perfect mix."
Takayo, cat sitter
"I love meeting all kitties and developing friendships with them. It is such a joy to play with them and watch them go nuts! Also when a shy kitty starts to warm up to me, it makes me so happy."
Takayo met her best friend Mimi, a tortoiseshell, when she was attending fashion design school. Since then Takayo and Mimi were inseparable. It would have been a deal breaker if Mimi did not accept her husband, Brian. Fortunately Brian is a huge animal lover and Mimi was OK with him.
Takayo as experience caring for young active cats as well as elderly kitties with renal decline. She's a part-time floral designer and a mommy to two black kitties, Nino and Evie, as well as a Rottweiler named Kuma who are all best buds.
Jenn, cat sitter
Jenn had her first cat before she even started kindergarten and hasn't been without a furry companion ever since. She is a sucker for a kitty in need, from taking in a whole litter of kittens to random strays found in parking lots and bus stops. A bus stop is where she found the handsome Paco Pollo that you see in the picture here. He was a fearless kitten that she still needed to bottle feed and after 10 years he was the best friend she had to syringe feed and give subcutaneous fluids. After Paco passed, it was hard to think of getting another cat, but even harder to live without that cat bond, which is how she came about cat sitting for a friend who had to go out of state for work for a year. She has become the go-to in her circles for anything cat related. She and her husband now share their home with the very refined Madame Adalaide, silly goose Wilma, and their newest rescue, Dennis, the trouble maker. And of course, any cat that passes by looking for a little snack and some TLC.
Jenne, cat sitter
"My favorite part of the job is giving cranial massages to clients' cats and sharing a nip cocktail. Also playing Attack of the Peacock Feather. I love the senior kitties! And the shy ones :) It's my goal to provide the kind of service that I want for my cats when I travel. It's wonderful to hear from clients that their cats are happy when they get home!"
Jenne is the newest member of the Companion Keepers team, and she is thrilled to be here! Jenne is a cat behaviorist and pet detective. With Catprofiler.com, she has been recovering missing cats worldwide since 2003. She also coaches cats and their human companions with behavior problems. She lives with an opinionated Bengal named Kara and Kara's minions Houdini, Charlie, and Bailey.