By Owners Leah and Martin
Before opening for business in 1994, we traveled—a lot. Delilah, our beautiful torti persian was our concern but we were lucky —family was always available and we didn't have to worry. But things changed and family members we counted on moved away. The professional pet sitting industry was not established in San Antonio much less cat sitting. After a long search, we found a committed friend willing to house sit with Delilah. Back-up plans, veterinarian instructions, and every contingency we could think of was covered. Before mobile phones or reliable internet service, we would be completely out of touch on our trip to Kenya until our return 10 days later.
But what was obvious to us as long-term cat owners wasn't as obvious for our friend regarding cat behavior and recognizing early when something was wrong—and sadly things did go wrong on our trip. Delilah developed an ear infection and as a senior cat the infection spread. Our sitter missed the clues and then medicated incorrectly, not out of neglect, but out of lack of cat-care experience. In spite of aggressive veterinarian treatment when we returned, our worst nightmare happened— Delilah passed away. We will always feel the pain and regret.
A few years after losing Delilah the pet sitting industry came along. The angst of being traveling cat parents coupled with our loss forever fresh on our minds we had our mission: fulfill the unmet need of traveling cat owners, in an unheard niche of pet sitting—cat sitting. All these years later it remains a joy and privilege to keep your cats happy, safe and content while you're away. Everything we know we train our team of experienced cat-people with so you can be away without guilt or worry.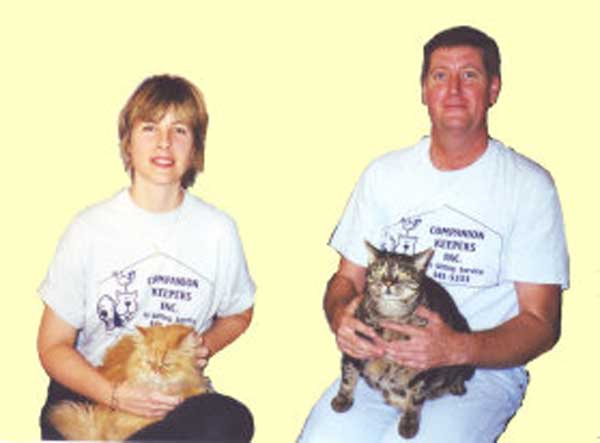 Martin and Leah are lifelong cat guardians.. In addition to rescuing and assisting in finding fur-ever homes for cats in need, they are currently owned by 6 feline family members of their own. Martin and Leah are active in the day to day operations of the business, including cat sitting. You can count on their years of experience to ensure your cats are well attended during your travels.
Joey, Office Manager-Hard at Work!